$42.00
Two sets of  Table number  rods in  a wooden box with number tiles 

The rods are constant in height and width (1cm) while graduated in length
from 2.5cm to 25cm.

The rods are presented in a wooden box that includes two sets of wooden
number rods and tiles 1-10
1. Just an Example of how to use the Number Rods for Addition Purpose :
This is just an example only:  

Ask child to spread a mat and build the stair with the number rods.
Separate the ten rod from the others: "Do you remember what this is? Yes, it is ten. Let's see if there are other ways to make ten."
Take the nine rod and place it against the ten rod: "What do we need to make this rod ten?"Allow the child the time to discover the answer.
Place the one rod in position and note that 9 + 1 = 10.
Have the child write this answer in his equation booklet.
See if the child can find a way to make ten with the eight rod.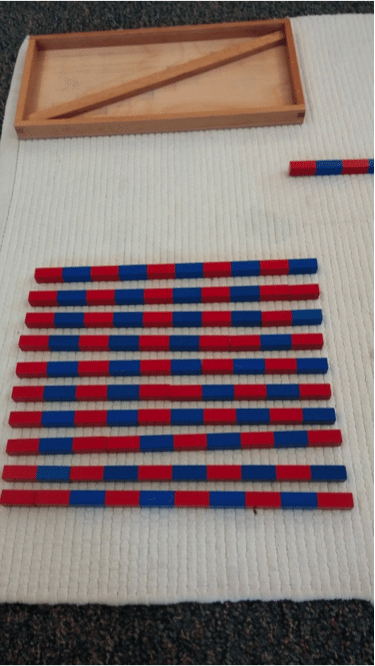 Continue in this manner until he has discovered all possible ways of making ten.
Next, ask the child explore to find all the ways of making 9. Get him started if necessary by placing the eight rod against the 9 rod and asking what he needs to make it nine.